Tax Notice Management: A Podcast with CICPlus+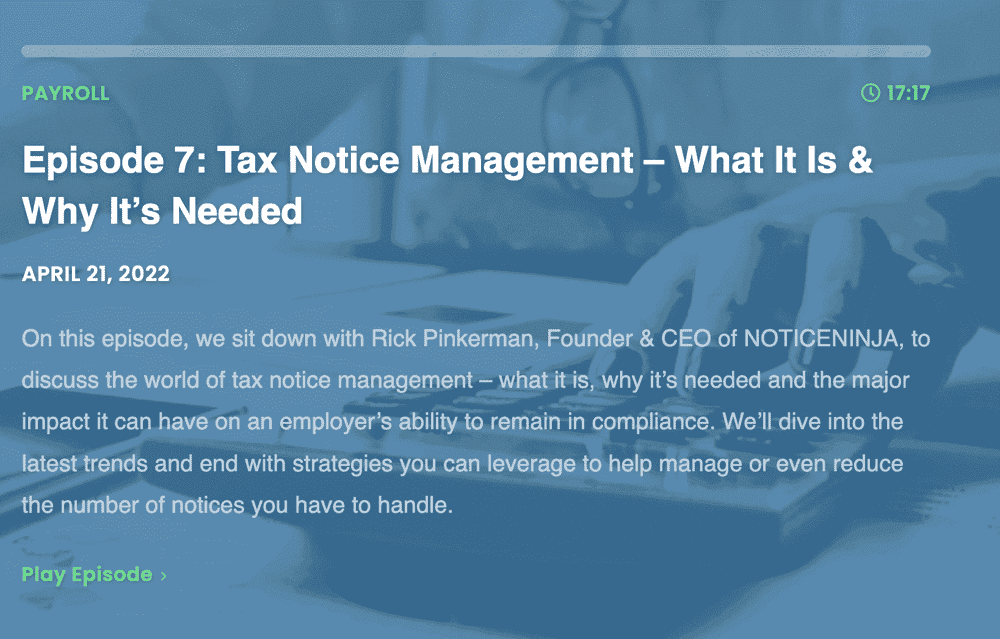 26 April
Our CEO Rick Pinkerman sat down with the CICPlus+ team to talk about Tax Notice Management: What it is and Why it's needed. Tax notice management is a critical part of helping your business maintain compliance with local, state, and Settle in and join us for a brief conversation.
Welcome to episode 7 of Tax Notice Management, a podcast brought to you by CICPlus+. In this episode, we are excited to have Rick Pinkerman, the Founder & CEO of NOTICENINJA, as our guest.
NOTICENINJA is a cutting-edge software platform that specializes in tax notice management. With over 30 years of experience in the tax industry, Rick Pinkerman has developed a deep understanding of the challenges that businesses face when it comes to managing their tax notices.
During this podcast, Rick shares his expertise on tax notice management and provides valuable insights on how businesses can streamline their tax notice processes. He discusses the common mistakes that businesses make when managing their tax notices, and how NOTICENINJA can help businesses overcome these challenges.
Rick also discusses the benefits of using a software platform like NOTICENINJA for tax notice management. He highlights the key features of the platform, including its ability to automate the entire tax notice management process, provide real-time access to tax notices, and provide comprehensive analytics to help businesses make informed decisions.
Whether you are a small business owner or a tax professional, this podcast is packed with valuable information on tax notice management. Rick's expertise in the field, combined with his passion for helping businesses, makes this episode a must-listen for anyone looking to improve their tax notice management processes.
So, sit back, relax, and enjoy this informative podcast with Rick Pinkerman, Founder & CEO of NOTICENINJA.


For more information schedule a consultation with us by clicking on the button on the header or feel free to fill out our form below, you can write your question and the NOTICENINJA team will respond as soon as possible.