2023 Texas Payroll Conference
15 August
2023 Texas Payroll Conference
The Texas Payroll Annual Conference 2023 will take place from September 14th to September 15th at the Kalahari Resorts & Conventions in Round Rock, TX.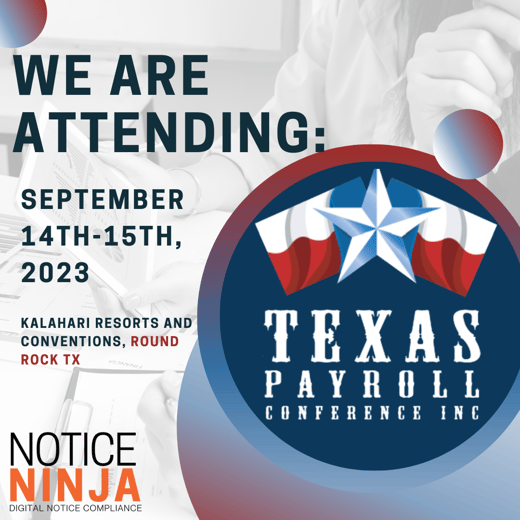 Event Details:
Date: September 14th-15th, 2023
Location: Round Rock, TX
Texas Payroll Conference, Inc. provides educational opportunities for payroll professionals and other interested parties. Additionally, it provides payroll professionals an opportunity to interact with peers, various representatives from federal and state agencies and representatives from companies that provide services for, or technological assistance to, the payroll community.
Make sure to visit Booth 19 at the conference to meet the NOTICENINJA team and discover how their cutting-edge tax notice management solutions can revolutionize your payroll processes. Whether you face challenges with tax compliance or handling notices from federal and state agencies, NOTICENINJA has you covered with their innovative platform designed to streamline and simplify the entire tax notice workflow.
Mark your calendars for September 15th at 10:15am - 11:45am as Rick Pinkerman, CPO/Co-founder of NOTICENINJA, takes the stage to share his unparalleled expertise on "Tax Notice Best Practices and Insights." Having spent years in the industry, Rick will provide valuable insights, practical tips, and real-world examples that will empower payroll professionals to handle tax notices more efficiently and proactively. This keynote session is a must-attend for anyone looking to elevate their tax notice management strategies.