California Payroll Conference 2023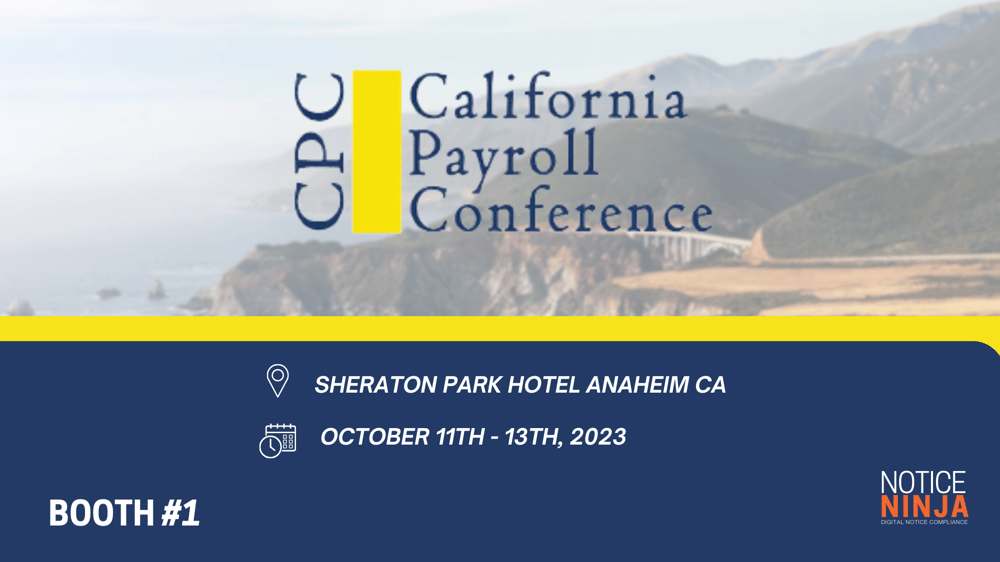 26 September
California Payroll Conference ,
October 11th-13th 2023
Date: October 11th-13th, 2023
Location: Anaheim, California
The California Payroll Conference (CPC) is back, and this year, it's bigger and better than ever! Mark your calendars for October 11th-13th, as payroll professionals from all over gather in Anaheim, California, for an event that promises networking, education, and a chance to support a noble cause. Notice Ninja is proud to announce its presence at the conference, with exciting events lined up for attendees.
Notice Ninja's Booth: #1
Make sure to stop by booth #1 at the California Payroll Conference to meet the team from Notice Ninja. Discover how Notice Ninja's cutting-edge solutions can streamline your payroll operations and help you navigate the complex world of payroll tax notices and audits.
Exclusive Speaking Engagement: Oct 11th, 1:30 pm - 3:00 pm
Join us on the opening day of the conference, October 11th, from 1:30 pm to 3:00 pm, for an exclusive speaking session featuring Rick Pinkerman, CPO/Co-founder, and Danny Tomasello, Senior Sales Executive at Notice Ninja. They will share invaluable insights on "How to Handle Federal, State, and Local Tax Notices & Audits." Don't miss this opportunity to gain expertise in payroll compliance and tax management.