NAPEO Annual Conference & Marketplace 2023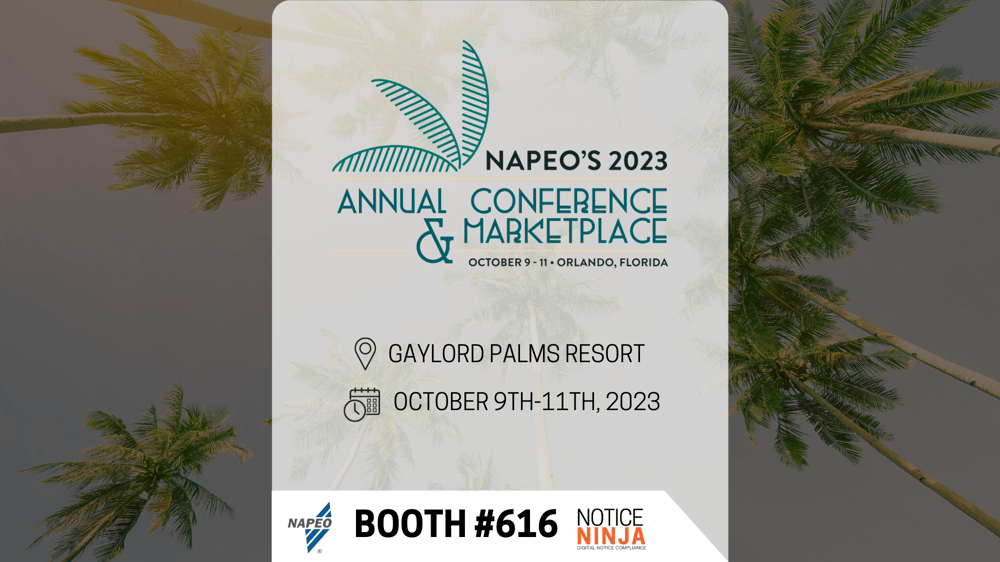 25 September
NAPEO ACM ,
October 9th-11th.
We're excited to announce that Notice Ninja will be a proud exhibitor at NAPEO's 2023 Annual Conference & Marketplace, and we invite you to visit us at Booth 616!
Who We Are Notice Ninja is your trusted partner in compliance solutions for the PEO industry. Our mission is to simplify and streamline your compliance processes, ensuring that you're always up-to-date with the latest regulations. With a commitment to excellence and innovation, we offer cutting-edge tools and expertise to keep your business compliant and thriving.
What to Expect at Booth 616
Live Demonstrations: Explore our state-of-the-art compliance software and witness how it can revolutionize your operations.
Expert Consultations: Speak with our compliance experts who can provide tailored solutions for your specific needs.
Networking Opportunities: Connect with industry professionals and fellow attendees who share your compliance challenges and goals.
Why Visit Notice Ninja at Booth 616
Stay Compliant: Learn how Notice Ninja can help you navigate the complex landscape of compliance effortlessly.
Save Time and Resources: Discover how our solutions can streamline your processes and reduce the burden of compliance.
Maximize Efficiency: Find out how automation can improve your workflow and minimize the risk of costly errors.
Unleash Innovation: Stay ahead of the competition by adopting cutting-edge compliance technology.
Join Our Community: Become part of the Notice Ninja community and gain access to ongoing support and resources.
We look forward to meeting you at Booth 616 during NAPEO's Annual Conference & Marketplace. Together, we'll conquer compliance challenges and pave the way for a brighter, more compliant future in the PEO industry.
For more information about Notice Ninja or to schedule a one-on-one consultation during the event, please visit our website at www.noticeninja.com or contact us at sales@noticeninja.com.
See you in Orlando!