NAPEO CFO Seminar July19-20, 2023
18 July
NAPEO CFO Seminar July19-20, 2023
We are excited to announce that Amanda Reineke, CEO/Co-founder of Notice Ninja, and Danny Tomasello, our Senior Sales Executive, will be attending the NAPEO CFO Seminar in Orlando, Florida on July 19-20. This premier event brings together CFOs, payroll professionals, and industry experts from the Professional Employer Organization (PEO) sector for two days of insightful sessions and networking opportunities.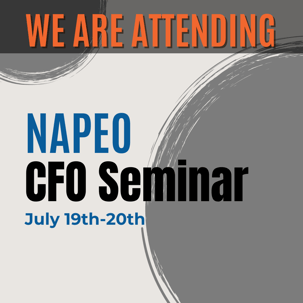 Event Details:
Date: July 19-20, 2023
Location: Orlando, Florida
At the NAPEO CFO Seminar, attendees can expect sessions packed with practical accounting and financial insight from industry experts. The CFO track is specifically designed to provide CFO types with valuable strategies and best practices for effectively managing their PEO's finances and operations. Amanda Reineke and Danny Tomasello will be actively engaged in this track, sharing their expertise and knowledge with fellow CFOs.
Concurrently, PEO payroll attendees will have their own dedicated track, where they will receive practical advice on the evolving landscape of PEO payroll operations. This track aims to keep payroll professionals updated on the latest trends, compliance requirements, and emerging practices in payroll processing within the PEO industry
.
We encourage all attendees to reach out to Amanda Reineke and Danny Tomasello during the seminar to discuss how Notice Ninja can assist in streamlining notice management processes, enhancing compliance, and improving operational efficiency for your PEO.
Join Notice Ninja at the NAPEO CFO Seminar in Orlando, Florida, and discover how our innovative solutions can revolutionize your notice management practices. Don't miss this opportunity to gain valuable insights, network with industry professionals, and explore cutting-edge technologies in the PEO industry.
For more information about Notice Ninja and our presence at the seminar, please feel free to connect with Amanda Reineke and Danny Tomasello directly during the event. We look forward to engaging with you and being a part of this exceptional event!