5 Takeaways from NAPEO 2023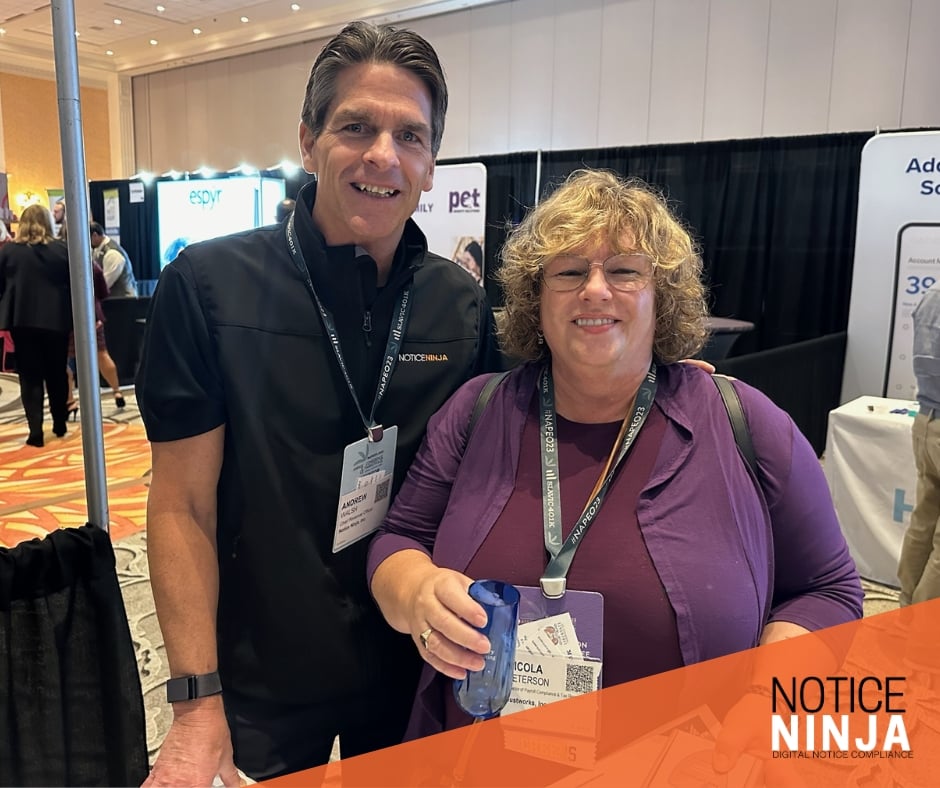 03 November
From October 9th to 11th, Notice Ninja, Inc. had the privilege of attending the NAPEO 2023 conference in sunny Orlando, FL. For another year in a row, the Notice Ninja team got to take part as the industry's brightest minds, latest trends, and innovative solutions.
"NAPEO ACM was time well spent!" Our CRO, Andrew Walsh, told us afterward. "It was great to see and spend time with all of the familiar faces and partners that I have known for years."
We're excited to share with you our key takeaways from this enlightening experience. Read on to gain an insight into our journey, the valuable connections we made, and the profound learning we brought back with us.
Met with Other PEOs and Subsidiary Companies
You wouldn't believe the sheer density of innovation that filled the air at the NAPEO 2023 event! At the Notice Ninja, Inc. booth, we reveled in another chance to engage with other PEOs and subsidiary companies. The conference's atmosphere is always welcoming – making it easy to get along with others.
"The mood around the NAPEO conference is always upbeat, and everyone is looking to network and help," Mr. Walsh said.
These exchanges gave us a wealth of knowledge, where we could both impart our journey and gain wisdom from others in the industry.
Showcased How NOTICE
NINJA

Benefits Companies

Our excitement was palpable as we had the opportunity to demonstrate the transformative power of NOTICENINJA, our comprehensive tax management software. We spotlighted our unique competency in automating tax notices and streamlining the handling of such paperwork into an efficient, foolproof process.

The potential for our solution to conserve time and slash administrative costs certainly didn't go unnoticed by the business owners in attendance. We made many great connections and got to show them how NOTICENINJA can benefit their team!
Heard from Professionals about Other Issues They're Facing
The conference also served as a window into the challenges that other professionals are wrestling with – giving us insight into what future product lines we can offer. This direct feedback, straight from the frontlines, is priceless to us at NOTICENINJA, Inc.
Armed with this new understanding, we're energized and more determined than ever to tailoring our services to directly mitigate these issues. You won't want to miss what we've got in store next!
Received Feedback on How We Can Help PEOs
The magnitude of response we received was nothing short of awe-inspiring! We gathered rich feedback on how NOTICENINJA can play an instrumental role for PEOs. This feedback ranged from making tax notice processing more efficient to mitigating the risk of non-compliance. All of this has given us a fresh perspective on how we can tailor our services to better support PEOs, and we're eager to translate these insights into action.
Learned of Industry Trends to Plan For
Receiving feedback and insight into what help companies need has also helped us gain vital information about emerging trends in the industry. This peek into the future has equipped us with a roadmap to navigate the evolving landscape.

With a clear comprehension of the direction in which the industry is moving, we at Notice Ninja, Inc. are ready to adapt and innovate our tax software to adapt it to upcoming needs. Watch this space as we continue to stay ahead of the curve!
Looking Forward to NAPEO 2024
NAPEO 2023 was a resounding success for us at Notice Ninja, Inc. The interactions, insights, and innovators we encountered have fueled our determination to bring even more value to our clients and partners.

"For the conversations we were involved in with respect to Notice Ninja, Inc.," Mr. Walsh said, "our solutions were really positive, and we look to have a lot of subsequent conversations due to the conference."

As we reflect on our learnings, we're already brimming with anticipation for NAPEO 2024. Rest assured, we will be putting all this newly acquired knowledge into action and can't wait to show you what we've got in store next year. Here's to a future filled with continued growth, collaboration, and innovation!